AUD/USD slid from the weekly high of 0.661 and at the press time was trading at 0.653 and has retained slight support from 50-day and 200-day MA daily support. Aussie Dollar is seen moderately gaining strength against the US Dollar on the intraday chart yet lacks a steady momentum, which led the price to nosedive below 0.66.
AUD/USD Analysis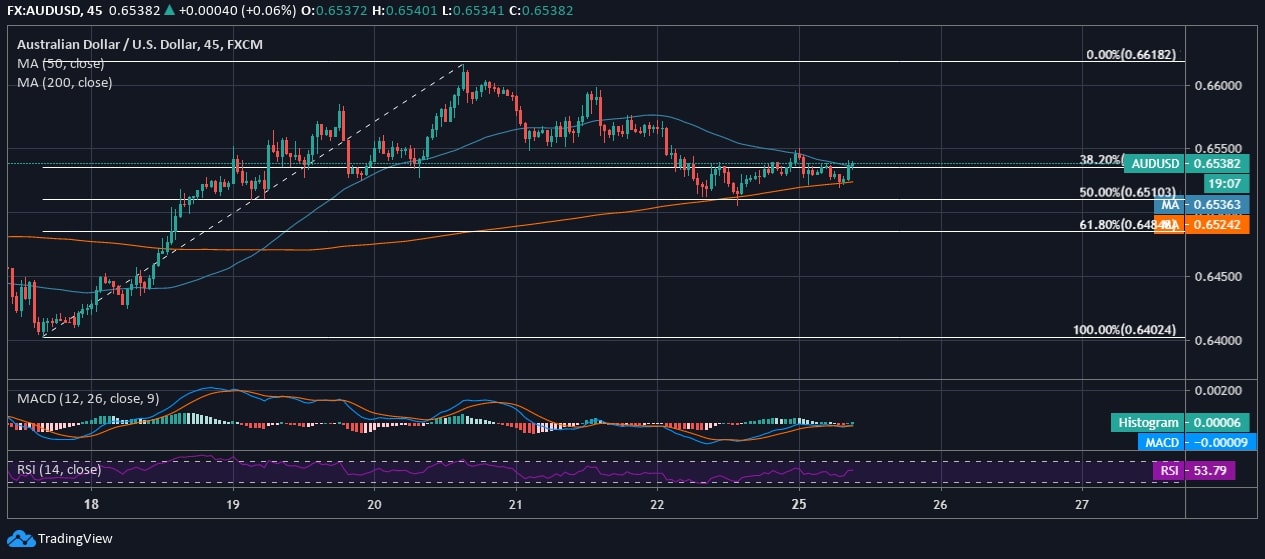 The US Dollar lacks momentum due to the growing tussle between US-China over the controversial security law that was decided to be levied on Hong Kong by Beijing. The US remains firm about not tampering with Britishers freed Hong Kong that China plans to take under its control. Moreover, due to the Pandemic that started from Wuhan in China, the trade relations between the US and China are going to be on stake due to worsening conditions in the United States.
Moreover, despite a few positive sentiments and slight intraday recovery, the pair is not likely to generate handsome demand from buyers until AUD/USD spikes above 0.66. The early half of the previous week tends to be quite a gainer for the pair, but failed breach above 0.661 and currently is maintaining the trend between 38.20% and 50.0% Fib Retracement level.
The technicals are drawing a complex yet slight bullish picture, as the MACD appears slightly bullish due to intraday positive correction. Similarly, the RSI of AUS/USD lies at 53.79 and holds no trading extremities.