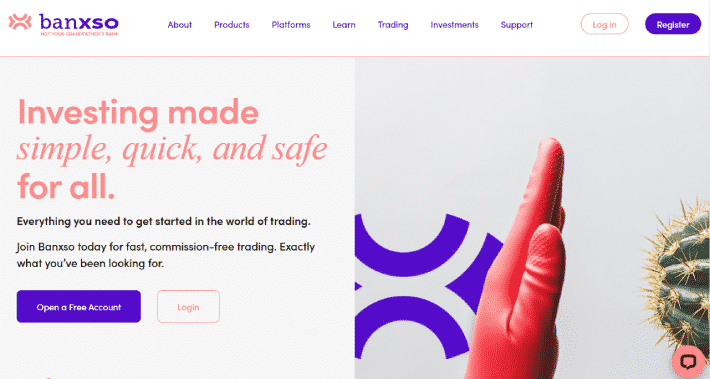 Overview of Online trading Platforms
The previous archaic method of investing money in stocks included the player calling his brokerage firm and requesting to purchase stocks in a specific business for a certain sum. After that, the broker would inform the buyer of the stock's current market price and confirm the transaction. Today, with the emergence of the internet in this digital era, a great majority of traders have ditched this conventional method and switched to online trading platforms.
An online trading platform is software that allows customers to purchase financial products via the internet. Bonds, stocks, commodities, currencies, and derivatives are examples of what can be bought digitally. Users can create 'buy'  and 'sell'  orders, set market limits, set a stop-loss, check order status, read company news, examine a list of stocks presently owned on the dashboard, and access prior investment statements.
Online Trading Offers Several Benefits Such As:
No Middlemen: Online trading cuts away the middlemen, allowing the user to purchase and sell without having to talk to a broker. For someone that does not have the financial means to engage with brokers, this makes for a great alternative.
It's Less Expensive and Quicker: Using a broker to execute trades costs more money. When one trades online, they will be charged a brokerage fee, and it will always be less than what a typical broker would charge if the user had to place a trade physically. Trading on the internet is virtually immediate.
It Gives Investors More Control: One of the most significant benefits of internet trading is that the users have more control over their finances. During trading hours, one can trade whenever one wants and can make their own decisions without intervention from the broker.
What is Banxso?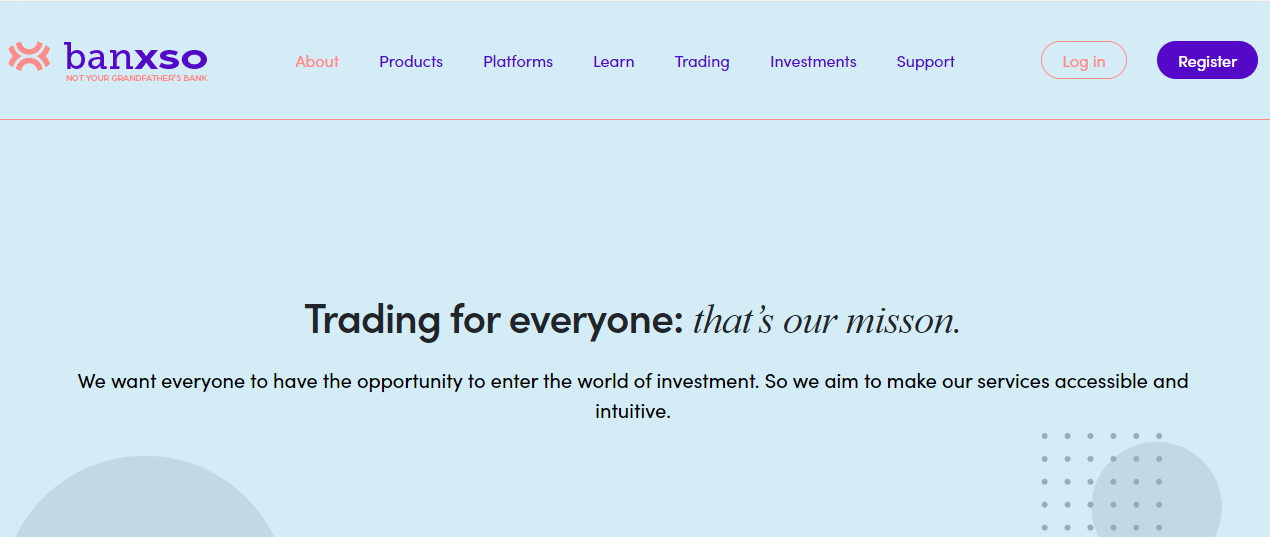 Banxso is a sought-after investment alternative that operates in several trading nations. Compared to other prominent trading shares platforms, it has state-of-the-art features that assist with current market trading. Trading plans, instruments, and assistance on the platform are all custom-made for the trader's convenience. Banxso provides AI-powered exchange operators with upgraded digital algorithms. The trading platform has made its services available to everyone, from top traders to everyday individuals looking to invest in stock exchanges.
Investors can trade safely and analyze the opportunistic fiscal markets based on their financial goals. Online financial trading is facilitated by Banxso's algorithms. In addition to this, the remarkable investment features allow for assessments of factors impacting powerful stock options. Banxso adds to its achievements by imposing low fees in exchange for guaranteed trade results.
Who Can Use the Banxso Platform?
Banxso is a cutting-edge trading platform that comes with a user-friendly interface. Its simplicity has made it ideal for both novice and expert traders. The site encourages new traders and also offers professional guidance. Users can utilize intuitive insights offered through the platform's knowledge database. One may sign up for forums as well as webinars about trading.
Is Banxso Regulated?
Yes, Banxso is highly regulated. All clients are served through the website. Customers are served through the website, www.eu.banxso.com which is regulated by the Cyprus Securities and Exchange Commission. XF Services Limited services all applicable clients within the 27 countries of the European Union or those holding European citizenship.
Features of Banxso
Investors may rely on Banxso for unmatched customer service, trading methods, and technology. Trading has become, which can be attributed to the robust expertise, insights, and research reports. Commodities, forex, indices, stocks, and cryptocurrency are all options for investors. Here are the features of Banxso that set it apart from the rest:

1. AI-Based Trading Systems for Faster Trading
Banxso has developed AI-based trading systems and high-tech algorithms that are designed to offer fulfilling trading experiences. There are no delays in executing orders. The trading platform is up and running around the clock.
2. Expert Customer Service
Customers are offered support through several mediums, including, email, telephone, and chat. Queries are answered within 24 hours.
3. Expert Guidance and Knowledge Base
Banxso has built a robust library of training tools, including online courses, webinars, and trading tips, to assist users in becoming effective traders. Banxso traders have complete access to these instructional tools and are encouraged to practice their trading abilities whenever they choose. The platform's instructional offerings are designed to help users become better traders and navigate the financial markets with confidence and comfort.
Pros and Cons of Banxso
Pros:
Banxso offers multiple functionality features concerning services, products, and platforms for trading.
Customer service is available 24 hours a day and 7 days a week. Queries are resolved within 24 hours. Banxso takes pride in its support staff and ensures a satisfactory experience for its traders.
The trading platform ensures transactions undertaken or conducted are completed quickly and easily. Fewer delays mean a more enriching experience for the users.
The Banxso platform allows its customers and traders to trade in a range of marketplaces.
In this trading market, Banxso has the best-in-class technology edge over the competition.
When compared to the platform's outstanding products and services, the commission it charges its consumers is low.
Cons:
The drawbacks of using Banxso are similar to the disadvantages of using any other trading platform. This kind of trading is internet dependent and there is a risk of over-investing or making poor investment choices.
Banxso offers several ways to help online investors protect themselves by assisting them in setting up safeguards and understanding the market before investing.
Account Opening Process of Banxso
It's easy to sign up for a Banxso account. The users must go to https://eu.banxso.com/ and find the 'Register' link at the far right corner of the website. Traders must then provide information, such as their full name, email address, and phone number. At this point, they are also requested to create a Banxso account password. Once done, registrants are asked to press the sign-up button. If the information furnished by the registrant is in the correct order, an account is created.
Trading with Banxso
Banxso caters to traders with varying levels of trading expertise and financial objectives. They provide several platforms, including MT5 and mobile, to suit traders from various backgrounds. Both platforms have their own set of perks and features in addition to their standard services.
– Mobile Platform
With the help of graphical objects and technical indicators, Banxso's mobile application covers the complete range of trading tasks and provides extensive analytical tools. Traders may check their account status and examine their trading history on Banxso's mobile app.
A big advantage of using a mobile platform is, users can trade while on the move. With a mobile application, financial markets are just a click away.
– MT5
MT5 has been designed for traders that wish to broaden their trading operations outside CFD Forex products. It includes futures, stocks, and foreign exchange trading instruments in both controlled and decentralized financial markets.
MetaTrader 5 is significantly quicker than its predecessor, MetaTrader 4. It's a multi-threaded platform that provides market depth (DOM), allowing traders to see where offers and bids are priced across marketplaces.
Which Assets Are Available on Banxso?
Banxso offers a range of financial assets that users can invest in. These include;
Forex- For inexperienced traders, the forex market is a good place to start. It is also a stable mainstay for those with more expertise in investing.
Stocks- Stocks are a popular trading and investment vehicle. Stock traders can profit from Banxso's expertise in global markets and methods.
Indices- Instead of focusing on individual stocks, trading indexes allow a user to concentrate on the health of regional and global markets. Banxso provides several indices for its customers to trade in and establish a diverse trading portfolio.
Commodities- Commodities were the original trade asset, and their importance in the investment world has never waned. As a result, Banxso included commodities trading on the platform.
Cryptocurrency- In the last few years, the popularity of cryptocurrencies has skyrocketed. Some cryptocurrencies have grown manifolds, generating enormous wealth from little deposits. It has, however, been tumultuous, with many investors losing money.
Banxso Education
Banxso has compiled a comprehensive library of instructional resources to assist a user in becoming an effective trader.

1. Online Courses
Banxso wants its traders to be properly equipped for trading. To do this, they have put up a collection of instructional courses on a variety of topics connected to financial markets and trading.
2. Personal Coaches
Personal coaches at Banxso answer trading questions and provide users with practical advice on how to make trade profitably. After reviewing the user's transaction, the coach will talk about how they can improve their decision-making. Banxso's trading coach works with customers to adjust their trading strategy, ensuring that they stay focused on their trading objectives.
3. Webinars
Webinars encompass a broad variety of topics and clear any doubts that the user may have. As Banxso's webinars are interactive, users may share their thoughts with other participants.
4. Market Updates
Banxso also offers daily market updates. Traders' attention is drawn to economic, political, and environmental news that affects stock exchanges. Even when markets abruptly reverse direction, if a trader keeps up with updates and news offered by Banxso there are fewer chances of the trader incurring any loss.
Customer Support
Banxso assists its customers with any inquiries or issues they may have. The traders have to tell the support staff about their problems, and Banxso's support team looks into it and comes up with a resolution as soon as possible. The support team can be contacted through email and online chat. Resolution is offered within 24 hours.

Conclusion
Using CFDs, Banxso allows traders to profit from opportunities in indices, currency, and stocks, among others. Banxso's AI-based technology provides a real-time picture of market prices, spreads, and margins, reducing risk, and safeguarding gains with a variety of stops and limitations, even guaranteed stops for complete protection. To keep conversion costs low, users can select their preferred currency. Also, in case they get stuck at any point throughout the deal, they can rest certain that their money is secure.
Banxso not only provides investors with useful information and a user-friendly interface but also includes cutting-edge trading technology and round-the-clock client assistance. There are no additional costs or commissions. This, together with the platform's trustworthy regulatory framework, makes it a popular choice among European investors. The platform's compliance with regulatory requirements adds to its security and safety credentials.
Banxso's technology is one-of-a-kind when it comes to its algorithm. Artificial intelligence is used to support the system, which improves the trading platform's efficiency even further. The platform's analytical reports are a unique asset that may assist investors in advancing their trading positions. Overall, Banxso may be thought of as a one-stop shop for all of one's trading requirements.
FAQs
How to Get in Touch with Banxso?
Users can contact Banxso's customer support team by sending them an email or starting a live chat. The provider offers a resolution within 24 hours.
What Are the Two Platforms Offered by Banxso?
Banxso offers mobile and MetaTrader 5. As a result of the company's dedication to offering users a choice of trading platforms that fit their needs, thousands of merchants from all around the globe have joined Banxso.
Why Do Users Trade Forex with Banxso?
Banxso lets users enter with a small amount of capital. With their mobile app, transactions can be done at any time. Banxso provides a variety of assets, including equities, crypto, commodities, and currency pairings for traders that do not wish to restrict themselves to a product. Banxso trades on several financial markets and provides its customers with the option of investing in a wide range of financial products.
Is It Safe to Trade with Banxso?
Yes, Banxso is completely safe. Customers are served through the website www.eu.banxso.com, which is regulated by the Cyprus Securities and Exchange Commission. XF Services Limited services all applicable clients within the 27 countries of the European Union or those holding European citizenship.