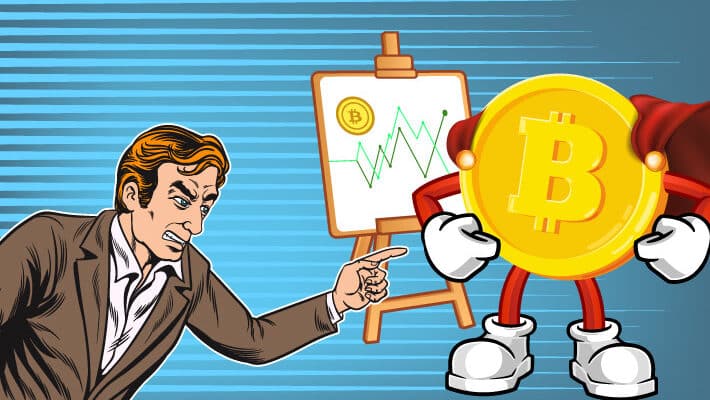 Bitcoin has come a long way since its inception. Cryptocurrency is now widely accepted across the globe. Many traders continue to march as it drops the value in the market.
In other words, Bitcoin has become a part of mainstream adoption. It is now correlated to macro assets and other economic conditions. One such condition is Fed Rates that are expected to increase this year.
Bitcoin's Vulnerability To A Hike In Fed Rates
Goldman Sachs, an investment bank, has issued a warning highlighting that Bitcoin is now more vulnerable to an increase in the interest rates by the US Federal Reserve. The reason for this vulnerability is its mainstream adoption.
Zach Pandl, a Co-Head of Foreign Exchange at Goldman Sachs, and Isabella Rosenberg, an FX Analyst at Goldman Sachs, published a research note saying that the adoption of Bitcoin had led to a higher correlation with macro assets.
They also noted that Cryptocurrency was not immune to macroeconomic conditions. An explanation has been put forward for this, stating that technology stocks were affected by the higher bond yields.
Recently, the NASDAQ 100 Index fell by more than 13% to affect the bond yields.
There is no specific timeline mentioned by the agency to increase the interest rates. Two parties have come up with their theories, though, as to when and how interest rates can go up.
Market experts estimate that the US Federal Reserve will increase interest rates five times in 2022. An increase will occur in every meeting of the Reserve. The Federal Open Market Committee (FOMC) has said that the increase will likely come after the March meeting of the Reserve.
No clarity is available except that Cryptocurrency is no longer immune to macroeconomic conditions. Bitcoin becoming a perfect alternative to investment in gold is a perfect example of how far it has come in terms of acceptance. Unfortunately, it has also become vulnerable to various economic factors. Clicking here will help you understand the effect of economic factors on the future price of Bitcoin better.
A total valuation of the Crypto world is missing at the moment. Analysts at Goldman Sachs believe that developments in blockchain technology, including metaverse, will give a better idea about it.
Metaverse is estimated to be worth around $8 trillion, according to Goldman Sachs. Morgan Stanley, its rival investment bank, has similar estimates on paper.
Bitcoin is expected to touch the mark of $100,000. The estimation has been laid out by Goldman Sachs. UBS has, however, said that that may now happen as there are a lot of concerns around an increase in the Fed rates.
UBS, formerly known as the Union Bank of Switzerland, is the largest bank of Switzerland. It has said that statement in the form of a warning, asking everyone to prepare for crypto winter.
Bitcoin is currently trading at $37,502, an increase of 6.6% in the past seven days and a 9.8% increase for the year.