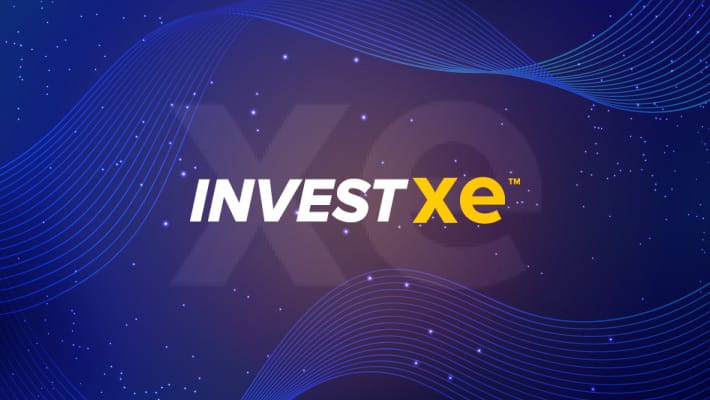 In this era of digitization, when cryptocurrency trading is at its peak, another highly customizable crypto trading platform shaping up will surely benefit the 2020 crypto traders and beyond. InvestXE is a cryptocurrency and commodity trading platform that allows traders from all corners of the world to access 16,000+ markets. The platform has some exclusive tools that help users experience seamless crypto trading.
This InvestXE Review talks about the various offerings that the platform provides its users. Follow this InvestXE review to know every minute details of the platform.
Trading Accounts
InvestXE offers the following accounts to users:
Primary Accounts
The primary account in the InvestXE platform has over 16000 assets that are categorized under six different classes. Users have the liberty to choose their preferred assets that they want to trade from these six classes.
Professional Accounts
Traders can also open a professional account and reap the various benefits that the platform has to offer. Registering as professional account holders bestows some extra benefits to users like leverage trading that can extend up to 300:1 or receive trading signals via WhatsApp or SMS.
AutoXE Accounts
AutoXE account holders enjoy the privilege to run automated trading strategies from their personal brokerage account, thereby saving a lot of effort, time, and money. The advantage of opening an AutoXE account is that traders can start and stop the system and as many times as they want.
Instruments that can be traded on InvestXE
While doing this InvestXE review, we came across the following instruments that the platform allows its users to trade:
Cryptocurrencies
The InvestXE platform provides a smarter way of cryptocurrency trading, and the users can trade crypto coins even without owning them. This saves them from the risks of falling prey to unreliable crypto exchanges that promise them huge benefits but later turn out to be bubbles. With the help of high-tech trading tools, the platform picks out the latest market trends for various cryptocurrencies, leading to increased profits for the traders.
Currency Options
InvestXE platform enables its users to be at par with the ever-expanding currency options markets, which is more commonly known as the foreign exchange market. With popular trading pairs available and a competitive pricing policy on the platform, its traders are always on the winning side.
Energy Commodities
Energy commodities include non-renewable sources or fossil fuels like oil, gas, or coal, and renewable sources like solar, wind, biomass, or geothermal power. InvestXE provides updated information about this energy commodities market to exercise their trading capabilities to the fullest.
Precious Metals
Precious metals always grow in value, especially in times of economic volatility. InvestXE reviews four precious metals, gold, silver, palladium, and platinum, before allowing users to trade these metals on its platform. However, trading precious metals always carry risks pertaining to a particular country's laws and regulations where they are traded. InvestXE reviews such laws and provides various risk-management solutions to its clients.
Soft Commodities
Like cocoa, cotton, soybeans, coffee, etc., the soft commodities market is also very demanding. Many traders put their fortunes into the soft commodities market to reap the benefits of huge profits therefrom. InvestXE also provides various time-tested winning strategies to win over the soft commodities market.
Education
InvestXE aims to provide its users with the required tools and expertise to succeed in the various crypto markets. Whatever their levels of experience may be, everyone is eligible for accessing the platform, and the platform itself takes the responsibility to educate its users. The platform provides the following courses to its users so that they can experience financial success quite easily.
Educational Courses
The various educational courses at InvestXE cover important topics like commodity trading, leveraging cryptocurrency, stocks, indices, various trading strategies, market trends, etc. As soon as the traders register for any of these educational courses, the platform starts sending updated market trends and information related to that topic. Therefore, beginners find the platform very appropriate to start their crypto trading career.
Online Trading Courses
InvestXE users can take up any course at their own convenience online. Online trading courses at InvestXE have a more focused approach that the traders need about a particular trading facet. Users can instantly connect to the online courses whenever they want by a single swipe on their devices.
Personal Trading Coaches
Sometimes traders prefer one-to-one personalized training because they feel that they can get their queries solved in a better way in an individual mentorship than in a group. At InvestXE, there is also an opportunity for individual training for traders to ask questions to the mentor on a one-to-one basis or even ask them for any help.
Platforms That Are Compatible With InvestXE
InvestXE reviews the following platforms and makes them available for its clients: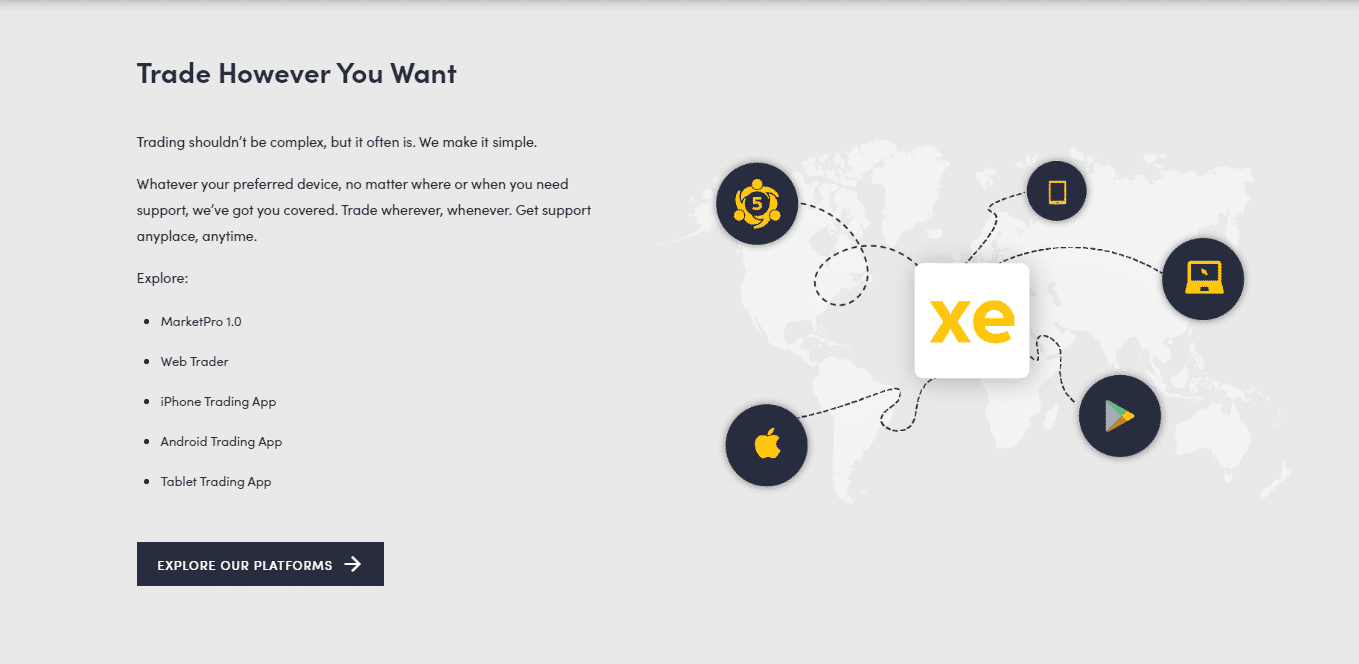 Android Trading app Platform
The InvestXE Android trading app helps traders using android devices to trade at their convenience. It provides a wide range of tools optimized for Android devices to help traders reap every trading opportunity that comes. Traders get push notifications on their Android devices regarding any recent updates taking place in the crypto market.
iPhone Trading App Platform
InvestXE makes trading easier with its in-built iOS Trader app. iPhones can track the latest trends happening in the crypto market as long as their iPhones are switched. The iOS Trader app has an intuitive user interface that is optimized for smaller screens, like phones.
MarketPro 1.0
MarketPro 1.0 is an AI-driven trading bot that works on advanced algorithms, thereby making crypto trading easier. Advanced algorithms help to analyze the real-time cryptocurrency market. Exclusive features like Copy Trading, Virtual Hosting, and instant access to strategists are possible because of this advanced robot. 
Tablet Trading App Platform
The InvestXE Tablet Trader platform allows traders to trade at their convenience by accessing real-time market data, tracking trends, and live prices. The tablet trading app is optimized for smaller screens like tablets.
Web Trader Platform
This is a web browser platform accessible from any device and therefore is more preferred by first-time traders. With this browser, traders can view historical data or use the multi-chart to compare various assets or even evaluate trends related to different financial instruments allowed on the platform.  
Crypto Funding Basics:
Finding the appropriate funds for trading is quite intimidating at times, but not anymore with the InvestXE margin and leveraged funds to rescue crypto traders. Marginal and leveraged crypto options protect traders against the unpredictable crypto markets. Moreover, at InvestXE, traders have the option to purchase crypto at bargain rates, which are not available elsewhere. 
Services that InvestXE offers
InvestXE platform offers the following services to its clients:
Dedicated Sales Trader
Getting started with crypto trading is challenging, but with a dedicated sales trader by your side, crypto trading does not seem to be much of a chore. The dedicated sales trader at InvestXE does all the hard stuff for you, like dealing with the sales team, admin team, or the finance team or doing all the necessary online work, etc. All of the Sales Traders at InvestXE have years of experience and proven success records.
In-House Analyst
In-house analysts at InvestXe makes the whole crypto trading process a lot easier and faster. Working with an efficient in-house analyst helps the traders know the top trading secrets that are exclusively known to top industry experts, which gives the traders a competitive edge over others. 
Personal Relationship Managers
The personal relationship manager at InvestXE helps the traders understand the various technical jargon, thereby helping them avoid the hidden costs or other trading pits that are not otherwise commonly visible by traders.
InvestXE clients can directly communicate with their personal relationship managers anytime via emails, phone calls, or chats or even meet them face-to-face if there is any urgency. 
Personal Trading Courses
Proper research and education are the keys to a successful crypto trading career; InvestXE makes sure that its clients are always on the winning side. With the help of the InvestXE personal trading course and bespoke training, traders get a useful insight into the crypto world that helps them understand the various complexities of crypto trading. 
Support
InvestXE reviews user testimonials of its clients and tries to figure out the problems faced by the clients. With its customer support team that is available 24/7, InvestXE keeps in touch with the individual traders and sorts out their trading issues instantly. The customer support team is available in either of the following ways: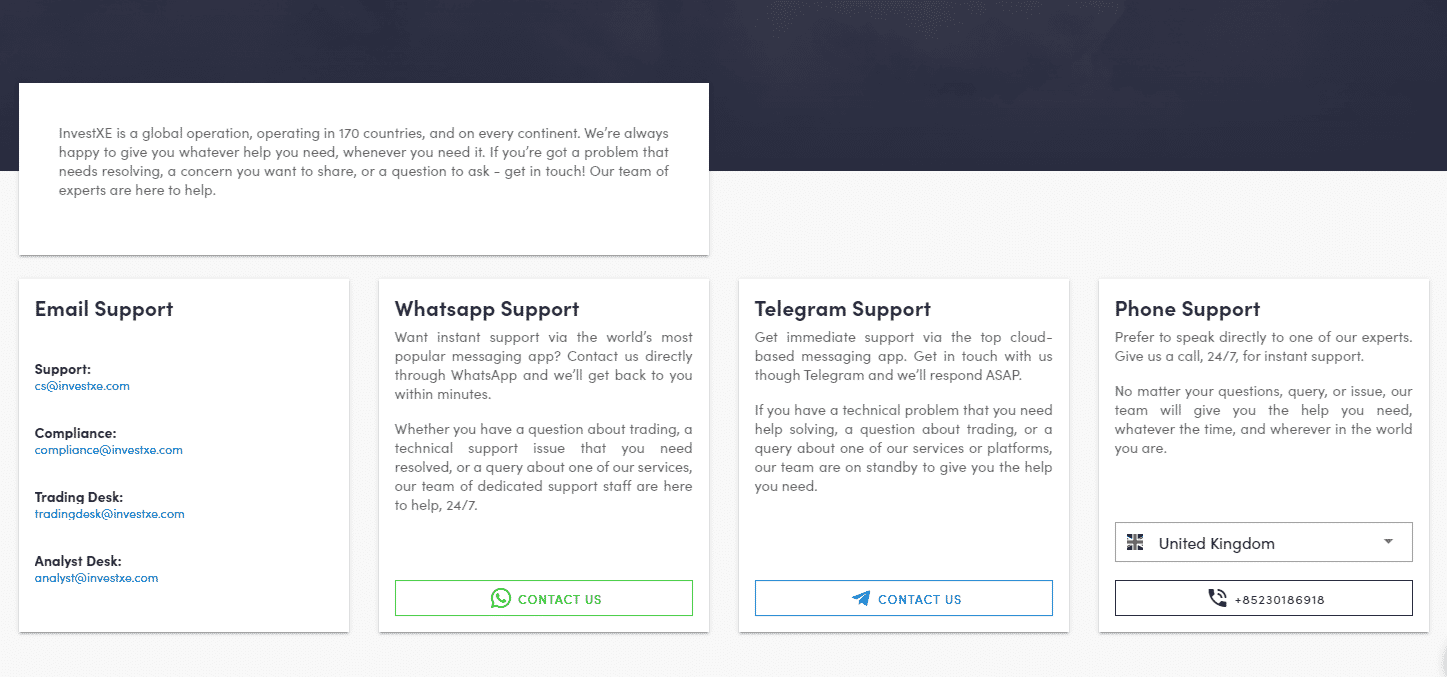 Email Support
Traders can contact the customer support cell at the following email addresses:
Support: cs@investxe.com
Compliance: compliance@investxe.com
Trading Desk: tradingdesk@investxe.com
Analyst Desk: analyst@investxe.com
WhatsApp Support
Whenever the traders need any technical support or face any trading issues, they can directly contact the InvestXE customer support cell via WhatsApp at +44 1273 807053.
Telegram Support
The InvestXE review team is also available via the cloud-based messaging app, Telegram for any technical assistance required by the traders while they trade on the InvestXe platform.
Phone Support
Most traders are more comfortable talking face to face with the customer support team rather than communicating with them via an app or email. At InvestXE, traders also have the privilege to get their issues solved on a one-to-one basis. There is a toll-free number (+85230186918) provided at the bottom of the InvestXE official website wherein traders can directly contact the customer support team.
Thus, InvestXE has emerged to be a satisfying crypto trading platform for users belonging to any experience level. But before selecting any platform, the traders must make sure that they know the various risks and complications associated with cryptocurrency trading, owing to their volatile nature.
Traders should be aware of the fact that InvestXE does not guarantee any profits from crypto trading, nor does it give any pieces of advice or recommendations to the fellow traders on how to trade crypto. InvestXE only provides a platform for crypto trading, and therefore any decisions taken by the traders are exclusively, and the company (InvestXE.com) is not responsible for any losses incurred.