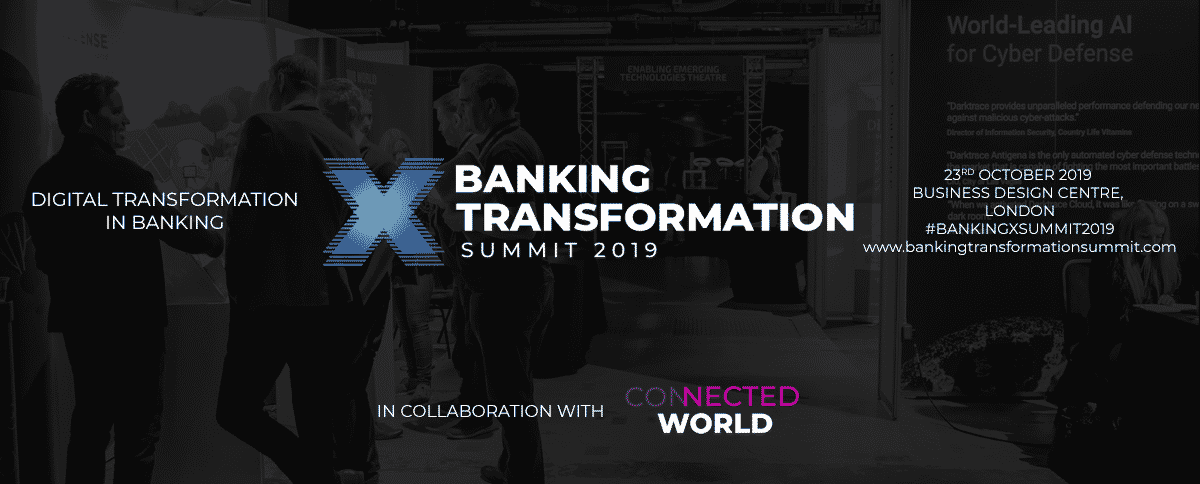 The financial sector is at the forefront of digital innovation with disruption taking place at every level.
New technologies, increasing competition and ever-growing consumer expectations have resulted in a turbulent financial landscape, bringing both challenge and opportunity.
The Banking Transformation Summit 2019 brings together key players from across the finance and banking industry, showcasing the latest innovations, unlocking the potential of new technologies and offering unparalleled networking opportunities.
Trusted by the best-known tech companies, engage with the industry's solution providers and innovative start- ups.
Visionary thought-leaders share their digital transformation experiences and explore how to unlock the value of new technologies such as AI and Blockchain. Some of the top speakers already attending Banking Transformation Summit include:
• Anthony Macey, Head of Emerging Technologies, Barclays
• Duncan Lawie, Group CTO Strategy and Architecture, DBaaS Architecture and DevOps, Credit-Suisse
• Shnay Chohan, Digital Experience Lead, Digital Banking & Transformation, Royal Bank of  Scotland Group
• Anthony Flack, Head of Digital Delivery, Santander
• Adri Purkayastha, Head of Technology & Cyber Risk Analytics, BNP Paribas Group
• William Lovell, Head of Future Technology, Bank of England
The Banking Transformation Summit addresses the opportunities to deliver cost and operational efficiencies, gain a competitive advantage and deliver the cultural shift required to be truly digital. Key technologies discussed include Blockchain, AI, Machine Learning, RPA and Cyber Security
Join us at the summit to learn about the Digital Future of Banking!
Twitter: @ConnectedWHQ
LinkedIn: https://www.linkedin.com/showcase/10384833/ 
Facebook: https://www.facebook.com/Connected-World-Summit-388518431875180/
Hashtag: #BankingXSummit2019
URL: https://bankingtransformationsummit.com/
Registration: https://bankingtransformationsummit.com/registration.html 
– Co-located with Connected World Summit & Smart Home Summit–
23rd October 2019, the Business Design Centre – London