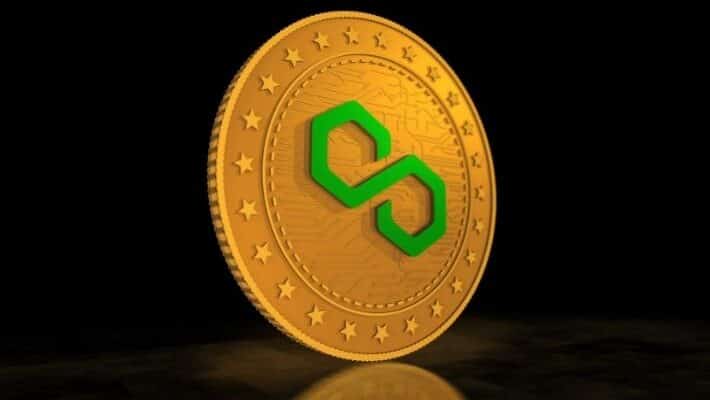 Polygon (MATIC), after being developed initially as an Ethereum scaling platform, finally turned to the cognizance of developing its main net and network. This layer-2 scaling solution is backed by Binance and Coinbase that aims to instigate mass adoption of cryptocurrencies by resolving scalability problems on recently developed blockchain ecosystems.
Polygon developers use a plasma framework with a proof of stake algorithm boasting a high transaction speed of up to 65,000 TPS. Polygon so far has contributed to the development of over 100 dApps. The fall can also be attributed to the algorithm changes imposed by the London Hard Fork and Ethereum Improvement Protocol of EIP 1559.
At its current market price of $1.34, Polygon has a liquid market capitalization of over $10 billion with just 77% of liquid MATIC tokens.
Polygon (MATIC) has unique outlooks in different time frames. Polygon (MATIC) has increased by more than 28000%, providing huge returns on investment for initial investors after enabling token transfers in August 2020.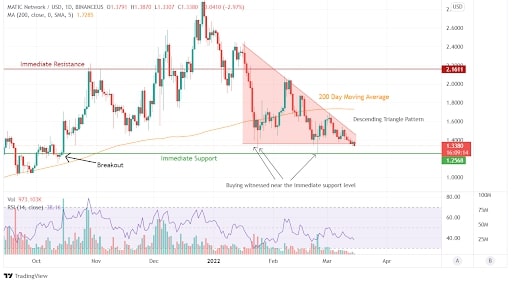 After its rise in May 2021 and subsequent profit booking, MATIC fell by more than 75%, but the price trend quickly reversed in August 2021, taking MATIC to fresh highs. But as we have learned with each fresh high, there has been a follow-up profit booking.
Similarly, markets turned red, bleeding over 50% from their last peak in December 2021 taking the price from $3 to $1.33, creating a sensation of further downside momentum. Analyzing the price trend, we witnessed sudden buying spikes near $1.4 levels that helped MATIC overcome its selling sentiment and retrace to a bit higher levels.
As such, $1.25 became an important level as it helped a huge breakout in mid-November 2021. Concerning the price movement we are witnessing around Polygon (MATIC), the technical analysis indicates further downside movement.
The chart pattern on MATIC resembles a descending triangle pattern. After the sequential breach of its 200 Days Moving Average, this pattern got confirmation, which held off the profit booking sentiment. $2 comes out as the immediate resistance to any upside buying rally in the short term, while $1.25 becomes a strong support level to initiate a buying sentiment.
MATIC will be trading between two important levels before a breakout pattern is established. The current price trend on a smaller time frame is visibly negative. If the $1.25 level fails to hold, further selling of MATIC could push the price beyond the $1 level. Click here to know more about the possible price levels of Polygon crypto for the next few years.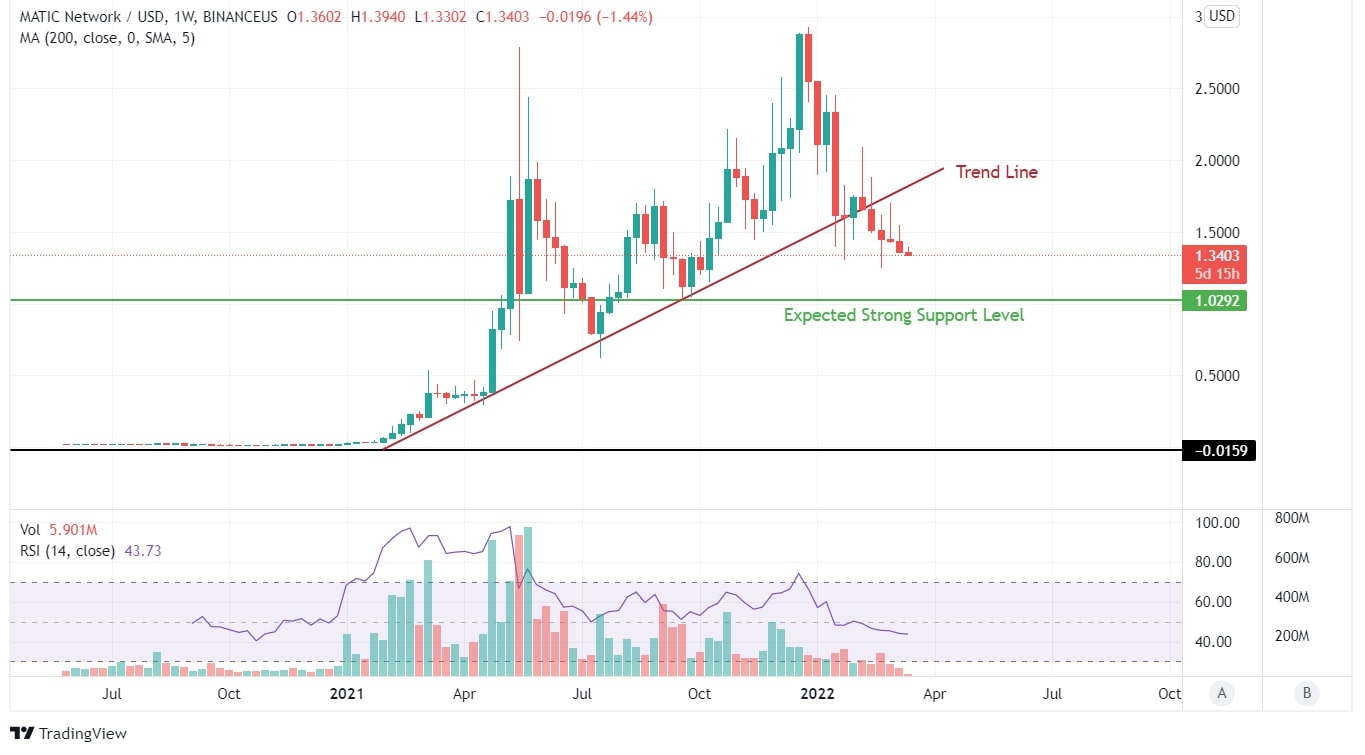 Long term price trend seems positive but has broken the trend line pattern it followed over the last year. Breach of its 200 MA levels coincides with the negative trend. Moreover, the candles have turned red in a high wick pattern that indicates overall negativity developing since it last made a fresh all-time high of $3. RSI has also hit a lesser demand for holding MATIC tokens as its supply reached 77%.